Dance Music Program – MOVING ENVIRONMENT  – II Ed.
23 July – 7 August – 2023
Spazio Seme  – Arezzo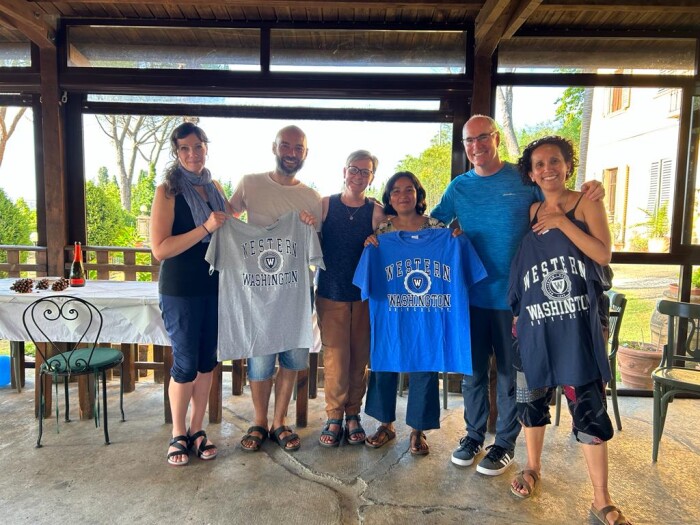 Programma residenziale di due settimane di Danza e Musica.
Il progetto di residenza artistica per giovani studenti universitari americani con insegnanti di internazionali e la realizzazione di una performance finale al Teatro Vasariano di Arezzo. La seconda settimana, il programma prevede la  partecipazione di danzatori e musicisti residenti in Europa.
Il programma di danza "Moving Environment" è organizzato da Spazio Seme &  Western Washington University (USA), con il patrocinio del Comune di Arezzo e la collaborazione di Arezzo Music Fest e Associazione Music per la realizzazione dello spettacolo finale di danza contemporanea al Teatro Vasariano di Arezzo, Venerdì 4 agosto, ore 19.30 –
Teachers 1st week:
Consuelo Pacheco (CL/IT), Leonardo Lambruschini (IT), Susan Haines (USA), Gianni Bruschi (IT), Francesco Botti (IT), Patrick Roulette (USA), Rachele Roulet (USA)
Teachers 2nd week:
Intensive: Paolo Cingolani (IT) – Classes: Consuelo Pacheco (CL/IT), Leonardo Lambruschini (IT), Susan Haines (USA)
Mercoledì 26 Luglio – ore 21.30 – Performance night – Ingresso libero
Musica: Patrick Roulette (percussioni), Rachele Roulet (pianoforte)
Danza: Faith McMahon, Malina Davis, Isabella Bailey, CJ Kelley, Emily Peterson
Venerdì 4 Agosto ore 19.30 – Teatro Vasariano di Arezzo –  Moving Environment dance performance. Spettacolo di danza contemporanea e improvvisazione
2nd week:
Lab – Moving Environment 
31 July – 5 August – 2023 @ Spazio Seme
Instant Composition | Contact Improvisation | Somatic 
From laboratory to the performance Site specific
Time: phrasing and musicality in improvisation with Paolo Cingolani
Teachers:
Intensive: Paolo Cingolani (IT)
Classes: Consuelo Pacheco (CL/IT), Leonardo Lambruschini (IT), Susan Haines (USA)
Venerdì 4 Agosto ore 19.30 – Teatro Vasariano di Arezzo –  Moving Environment dance performance. Spettacolo di danza contemporanea e improvvisazione.
Teachers:
ISTANT COMPOSITION
Paolo Cingolani
is an Italian dancer specialized in the art of improvisation and instantaneous composition. Her work is characterized by a specific practice on intuition as the first tool to create dance and text in performance. Since 2012 he has been a member of Julyen Hamilton's Allen's Line company. In recent years, Paolo has also dedicated himself to creating dance performances with other artists, dancers, musicians and visual designers. In this context of freelance, he has performed extensively in many European cities (2005-2023). As a teacher, he has developed a personal technique of movement and theater (Movement Alchemy) resulting from the combination of Tai-Ji Qi Gong with the principles of contemporary dance and instantaneous composition. Since 2006 he has been invited to teach in festivals, schools and institutions throughout Europe.
more info: www.paolocingolani.com
Live CV: www.paolocingolani.com/timeline.html 
Ultimi video:  https://vimeo.com/745390963 / https://vimeo.com/791230077
Lista di video: http://www.paolocingolani.com/portfolio-page.html 
Contact Improvisation
with Leonardo Lambruschini & Consuelo Pacheco
Contact Improvisation, as a dance based on improvisation, pushes us to accept whatever happens in the present and transform it into an expressive creation.
Pay attention to what happens spontaneously, experiencing fluidity in a dance for two or more people within the improvisation.
The movement derives from a physical relationship that inspires an instant creation, that is, an improvisation.
Participants are invited to explore and move without resorting to sight, move following hearing, move and express themselves following internal and external impulses.
A child's first relationship with the world begins with a hug.
An authentic and pure dance that welcomes our thoughts, the limits of the body and fears.
We will work following the fundamental principles of the I.C. on the relationship between weight to gravity, inertia and constant dynamics of a living body always in motion.
Leonardo Lambruschini – Italy
Contact, trust, movement are the central focus around which I develop teaching and practice, both for adults and children. Above all, trust in the present moment as a fruitful source of inspiration and meaning. I am attracted to places and contexts where various forms of art meet, communicate and create something new, that transcends languages and differences. I am also the co-founder and Art Director of Spazio Seme www.spazioseme.com – International Cultural Arts Center in Arezzo (Tuscany, IT). There, we create opportunities to research, organize, and manage festivals, intensive workshops, performances, artistic productions, and residencies. I develop and lead classes for children (ContaKids, PlayContact).
I teach C.I for adults and students, in Italy and abroad. I feel very attracted by the nature and expansive dimension of travel. I have taught at festivals and done intensive labs in India, France, Portugal, Greece, Israel, Norway, Sweden, Germany, Denmark, Russia, Moldova, Georgia, Northern Ireland, Mexico, Argentina, Chile and Brazil.
I am one of the organizers of ItalyContactFest – www.italycontactfest.com
Consuelo Pacheco – Chile-Italy
Dancer, Teacher and somatic researcher. Since my childhood, the Dance experience has accompanied my work as a human being.
I started practicing C.I 12 years ago, and during this time my curiosity about the phenomena of the movement continues to expand and invites me to continue to explore unknown places. I am interested in exploring the dimensions of improvisation and the virtues of creativity that can be applied to plasticity and creativity to dance. In my curiosity about the phenomenon of being alive, in recent years I have ventured into the universe of contemplative arts and somatic practices, studying the Alexander Technique in greater depth. In addition, in my daily life I spend a large part of my time lovingly and respectfully raising my daughter Amanda, researching the Montessori and Pikler methods to delve into psychomotor evolutionary development in early childhood. Currently, I am studying the Ecology of Childhood Training at the European Institute of Perinatal Mental Health.
Munz Floor 
with Andrea Vazquez-Aguirre
This innovative somatic method was created by Alexander Munz, founder of MAISON MUNZ. In this class, you will experience the benefits of spiraled sequences in the floor that promote elasticity and vital resilience within your fascial system. The class is guided verbally, and the student is empowered to work with their own capabilities.
For more information about this methodology check this website: www.maisonmunz.com
Andrea Vazquez-Aguirre (USA/MX)
Andrea Vazquez-Aguirre (MFA: SUNY Brockport, BFA: National Conservatory of Dance in Mexico D.F.) is a cross-disciplinary dance artist. She was a scholar under FONCA*, and has danced in several professional companies in Mexico and the United States. She is interested in performances that explore the idea of 'truth in fiction' and 'fiction in truth.' She is co-director along with her creative and life partner, James J. Kaufmann of Another River Interdisciplinary Ensemble. She is serving as Assistant Professor of Dance at Southern Utah University. *Federal Council for Culture and Arts in Mexico.
Movement ecology
with Susan Haines (USA)
Susan Haines is dancer, choreographer, and educator with research specializations in dance science, creative process mentoring, and movement ecology for sustainability of person, place, and planet. Her teaching prioritizes depth of inquiry and engagement with transdisciplinary work; the moving body, performance studies, group dynamics, and psychology. She has an MFA in Dance from UNC-Greensboro, is a master teacher in Pilates, and is certified in Functional Range Conditioning, AcuKinesis, Yoga, and NeuroKinetic Therapy: a sophisticated assessment and treatment modality that addresses the causes of dysfunctional movement/coordination problems at their root in the motor control center. She serves as a Dance Science expert for Apolla Performance and is on the editorial board of the Journal of Dance Education with research published in JODE and RIDE. Her dance films with musician Bruce Hamilton have been selected by jury for festivals in the US, Germany, Belgrade, and Portugal.
MUSICIAN:
Patrick Roulette 
Percussionista, Patrick Roulet ha collaborato con una serie di artisti, compositori e coreografi che abbracciano generi musicali classici, jazz e globali. Attualmente sta completando il suo 29° anno di insegnamento universitario come professore di percussioni presso la Western Washington University.
Come percussionista freelance, si è esibito in luoghi negli Stati Uniti, dalla Benaroya Hall di Seattle allo storico Wadsworth Theatre di Los Angeles, al Kennedy Center di Washington DC e al Rose Theatre del Lincoln Center di New York. Ha creato la colonna sonora ed è stato il solista di xilofono in primo piano per The Traveling Feet con la Deep Vision Dance Company a Baltimora.
La sua costante curiosità per le percussioni mondiali e la fusione di musica e cultura lo hanno ispirato a viaggiare e studiare in Ghana, Africa occidentale, dove ha recentemente trascorso sei settimane suonando la batteria e suonando il tradizionale xilofono del Dagara chiamato Gyil.
Patrick è un artista Yamaha e sostenitore di Grover Pro Percussion e Vic Firth. http://www.prpercussion.com
Rachele Roulet (musician)
La passione di Rachel Roulet per guidare i giovani musicisti alla ricerca dell'eccellenza artistica l'ha portata a una carriera decennale nel pianoforte collaborativo. Attualmente è istruttrice di pianoforte collaborativo e pianista collaborativo principale per l'area vocale presso la Western Washington University, dove co-insegna la masterclass di accompagnamento al pianoforte e accompagna gli studenti nelle lezioni e in vari eventi di performance con studenti e docenti. Negli ultimi anni ha assistito i corsi di teatro musicale, i cori della WWU e l'Opera della WWU. In precedenza ha lavorato come assistente alla direzione musicale per le produzioni di opera e scene presso la Towson University nel Maryland, dove ha anche lavorato come pianista per il quintetto vocale della facoltà e come pianista collaborativa per l'area vocale. Altri incarichi di docenti e personale includono la Southern Utah University e il New England Conservatory e il New England Music Camp nel Maine. È stata tastierista e pianista per The Bellingham Chamber Chorale, il Bellingham Festival of Music e attualmente accompagna al Midsummer Musical Retreat a Walla Walla, Washington.