"INTERVALS"
Intensive workshop & Jam with Asaf Barach & Linda Bufali
10-11-12 March 2017 | Spazio Seme ( Arezzo – Tuscany)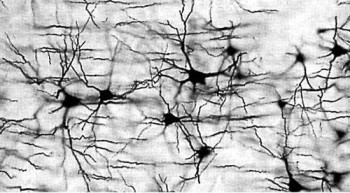 INTERVALS
Etymologically, the word interval comes from inter-val, the space/relationship between two walls… In many languages such as Italian, French or English, the words that names 'concrete objects' are basic nouns while the words that name relationship between objects are derived nouns. For exemple, we say a street or a road ('concrete objects') while we say intersection (from the verb inter-sect), and so interval is a relation defined by the walls that create it
In this workshop we will attempt to construct a (danced) language that functions with the opposite logic, a language where the relations, the in-betweens are the basic building blocks and where 'concrete objects' are entities that emerge from this in-betweeness, the walls (vals) are the end-points of the 'inter-space', roads are projected from the intersections…. a relation-scape instead of an object-scape. The interval as a differentiation that individuates (after Levinas).
And this brings us to MA… In Japanese, ma, the word for space, suggests interval. It is best described as a consciousness of place, not in the sense of an enclosed three-dimensional entity, but rather the simultaneous awareness of form and non-form. Ma is not something that is created by compositional elements; it is the thing that takes place in the imagination of the human who experiences these elements. Therefore, ma can be defined as experiential place understood with emphasis on interval.
In a CI dance before the touch, the impact, the weight but even before the intention-to, there is a magic moment, an interval, a place Viktor Frankl writes about as the place between stimulus and response where we can look for our freedom and our power to chose the mode of reaction.
Does all this sound very philosophical? indeed. it is, but this is what CI is for us, a way to DO philosophy with our bodies in interaction. We will roll and fall and stomp and slide and crawl and push and shove…. we will DANCE!!!
ASAF BARACH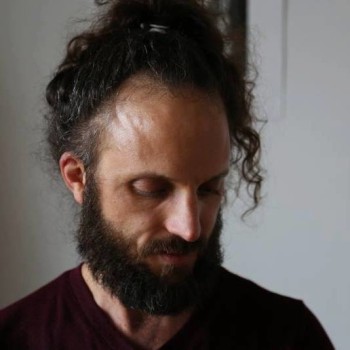 I have been practicing teaching and performing contact improvisation over 20 years in Israel, Europe and the United States. Among my most important teachers are Kirstie Simson, Lisa Nelson, Daniel Lepkof, Min Tanaka and Steve Paxton. These days I think of CI as collective somatic practice and my dancing and teaching are highly influenced by my study of the Rolfing technique with Hubert Godard. I live in Paris where I teach and perform with the me-lieu collective. I also practice cognitive neuroscience where my main foci are the cognitive/physiological underpinning of dance and improvisation (labodanse.org) and language.
LINDA BUFALI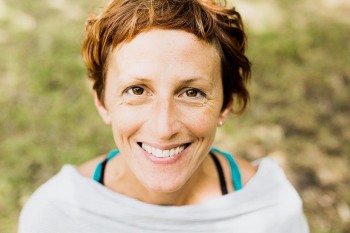 While I was trying to study acting, in 1998, l bumped into…and against this "weird dance".
After few years I realized I was still there, sweating, falling, laughing and feeling. So I decided to go deeper into it, entering the phantasmagorical world of workshops and festivals, bumping into and against strange teachers who helped me sweating, falling , laughing and feeling even better.
I'd give anything to forget all that so to start again, off for the journey again! But it's not possible!Since 2008, I have been teaching in Italy (intensive workshops in many communities and Italy Contact Festival '15), abroad (intensive workshop in Madrid, Lleida, Alcoi, Colon, Basque Country, Amsterdam, Israeli Contact Festival '14, Dancefullnes Ukraine '16) and I have been organising events to help Contact Improvisation spread as much as possible (I am an organizer of the Italy CI Camp).It's a bit as make the journey from the start, knowing the path but taking a different luggage with you; and always hoping to bump into/against something interesting. I see contact dance as the best way I have in this lifetime to meet someone outside the social contract and to keep my drive for movement alive.Life is movement, moving in pairs accelerates awareness. I deeply believe that contact improvisation is potentially, a big, healthy revolution.
LINKS VIDEO
https://www.youtube.com/watch?v=njPJYlAxUFI
https://www.youtube.com/watch?v=tSK-VsxrBro
https://www.youtube.com/watch?v=q3Py1SiCrco
https://www.youtube.com/watch?v=ZwjE510AKFY
SCHEDULE (March)
Friday – 10
– 20.00 – 22.00 class and after Jam
Saturday 11
– from 10.00am to 1.00pm class
– from 14.30pm to 18.30pm class
– – from 19:00 to 20:00 we can dance in the pool.
after dinner Jam
Sunday 12
from 10.00am to 1.00pm class
from 14.30pm to 18.00pm class and Jam
The workshop takes place at Spazio Seme ( Via del Pantano, 36) in Arezzo – Tuscany (IT)
You can stay in Spazio Seme even for the night, with the sleeping bags. If there are some special needs (especially about food), let us know and we'll try to manage at best!
Bring your swimsuit Saturday from 19:00 to 20:00 we can dance in the pool.
The workshop is 160 €
Accomodation, vegetarian food and a lot of dance… included!
50% discount for people who come from abroad!!!
for info and subscriptions:
info@spazioseme.com – leonardo.lambruschini@gmail.com – 3383366049 – www.spazioseme.com