AFROSSA' – BDC–  Afrobrazilian dance workshop
con Carlos Uhjama
24 – 25 November – Spazio Seme (Tuscany, Arezzo IT).
Workshop 10 hours
Saturday – 15.00 – 19.00 | Sunday 10,00 – 13,00 | 15.00 – 18.00
It is a dance training program, based on Afro-Brazilian expressions from the city of Salvador / Bahia, which uses elements of capoeira, dances of the Orixás, samba, folk dances and their syncretisms.
It is the only program on Afro-Brazilian dance recognized by the International Council of Dance CID / UNESCO, through IABACE, in recognition of this discipline in more than 170 countries, worldwide.
The program is aimed at dancers, actors, musicians, singers and performer in general.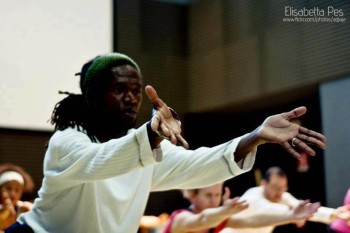 Carlos Ujhama:
Founder of IABACE, an institution specializing in Afro-Brazilian dances, manifestations and expressions, Member of the International Council of Dance CID / UNESCO and collaborator in Spazio Seme – International Arts Centre / IT, since 2012.
He is general coordinator of the International Certification Program in Afro-Brazilian Art and Culture AFROSSÁ BDC – Brazil Dance Concept's (first Afro-Brazilian dance training program, recognized by the International Dance Council CID / UNESCO). Director and choreographer of the Contemporary Society of Urban Intervention, recognized as "Affirmative Expression of the Black Identity of the city of Salvador", through the Center for Popular and Identifying Cultures of Bahia / SECULT-BA – BRAZIL, Bahia State Government / 2010.
Fee: – 95 euro – (vegetarian food and a lot of dance… included!)
The workshop takes place at Spazio Seme in Arezzo – Tuscany (IT)
You can stay in Spazio Seme even for the night, with sleeping bags.
Spazio Seme – International Artistic Center – Via del Pantano 36 – 52100 Arezzo
www.spazioseme.com – info@spazioseme.com