17 e 18 settembre | Spazio Seme (Arezzo)
TECNICHE DI DANZA IMPROVVISAZIONE con Paolo Cingolani
Saturday 11-14h and 16-19h – (after dinner: night jam)
Sunday 10-14h
Il seminario si focalizza su due aspetti basici della danza improvvisazione: affinare la percezione del nostro corpo in movimento e utilizzare questa percezione all'interno di una composizione istantanea. Attraverso il contatto fisico, lo studio della forza di gravità, l'uso del peso e del supporto, l'osservazione e la partecipazione, saranno facilitati quegli stati psicofisici che possano migliorare la percezione e il movimento nello spazio e nel tempo. All'interno del seminario saranno inoltre affrontati temi riguardanti il teatro e la composizione, il fraseggio e la grammatica di una coreografia, la poetica del movimento, l'uso di un'immaginazione attiva nella creazione di danze. Grande spazio sarà inoltre dato alla pratica della performance e all'analisi dell'atto creativo nei nostri giorni. Il seminario è aperto a danzatori, attori, musicisti o a chiunque voglia avvicinarsi alla composizione istantanea e improvvisazione per conoscere una nuova forma di praticare la danza.
(Foto di Patrick Beelaert)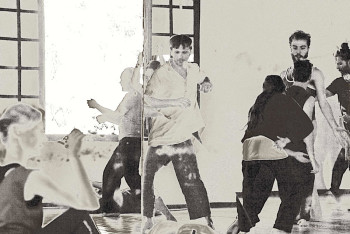 BIO
Paolo Cingolani (classe 1977) è un danzatore italiano specializzato nella danza improvvisazione e nell'arte della Composizione Istantanea. La sua formazione comprende anni di studio e pratica nelle arti marziali, nella danza contemporanea e nel teatro fisico. Laureatosi in Antropologia Culturale nel 2004, si dedica da allora alla pratica e all'insegnamento della danza come linguaggio teatrale indipendente ed autoreferenziale. Come performer ha partecipato alla creazione di differenti spettacoli in Italia, Spagna, Olanda, Belgio, Francia, Svizzera, Grecia, Austria e Germania.
Dal 2012 è parte della compagnia "Allen's Line" di Julyen Hamilton, con cui ha presentato le ultime produzioni a Berlino, Bruxelles, Parigi, Strasburgo ed Oslo. Da oltre 10 anni, inoltre, imparte lezioni e seminari di danza all'interno di festival e istituzioni in Europa come negli Stati Uniti.
(English)
DANCE IMPROVISATION TECHNIQUES
with Paolo Cingolani
The workshop focuses on two basic topics of dance improvisation: to improve the perception of our body in motion and to use this perception inside an instant composition. Through the physical contact, the study of the force of gravity, the use of weight and support, observation and participation, will be facilitate those psychophysical states helpful to improve the perception and the movement within space and time. During the workshop will also be addressed issues concerning the theatre and composition, the phrasing and grammar of choreography, the poetics of the movement, the use of active imagination to create dances. Great attention will also be given to the practice of performance and analysis of the creative act in our day. The workshop is open to dancers, actors, musicians or anyone who wants to approach the instant composition and improvisation to discover a new way to practice dance.
(Photo by Patrick Beelaert)
BIO
Paolo Cingolani (1977) is an Italian dancer specialized in dance improvisation and the art of instant Composition. His educational background includes years of study and practice in the martial arts, contemporary dance and physical theatre. After his degree in Cultural Anthropology (2004), he is dedicated to the practice and teaching of dance as a theatrical language independent and self-referented. As a performer, he participated in different shows in Italy, Spain, Holland, Belgium, France, Switzerland, Greece, Austria and Germany.
Since 2012 he's part of the company "Allen's Line" of Julyen Hamilton, with whom he presented the latest productions in Berlin, Brussels, Paris, Strasbourg and Oslo. For over 10 years, he also imparts lessons and dance workshops in festivals and institutions in Europe and the United States.
The workshop takes place at Spazio Seme ( Via del Pantano, 36) in Arezzo – Tuscany (IT)
You can stay in Spazio Seme even for the night, with the sleeping bags. If there are some special needs (especially about food), let us know and we'll try to manage at best!
The workshop is 85 € – Accomodetion, vegetarian food and a lot of dance… included!
50% discount for people who come from abroad!!!
for info and subscriptions:
info@spazioseme.com – leonardo.lambruschini@gmail.com – 3383366049 – www.spazioseme.com