Contact and Improvisation workshop with Leonardo Lambruschini and Mario Ghezzi 
Trafó House – Studio, Budapest (Hu)
February 21st – 22nd, 2015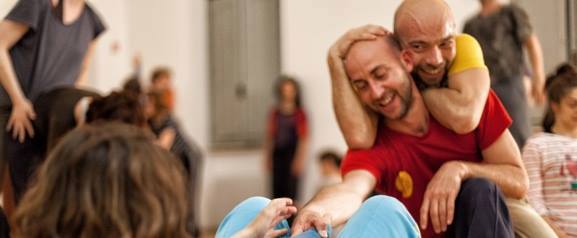 ROOTS AND LEAVES
Periphery and center. Up and down. Earth and sky. In this workshop we would like to melt this polarity, we invite sky to meet the earth, we want to go down rising up.
The work will bring us to feel the central axis of the body, to connect up and down and discover our center. We'll give particular attention at the legs and at the possibility to became light like leaves or strong like roots. Part of the workshop will be dedicated to simple exercise and practices of proprioception of the lower part of the body. We'll work alone or with a partner researching and feeling our movement.
LEONARDO LAMBRUSCHINI
Performer and artistic producer, he teaches Contact Improvisation at Spazio Seme and leads experimental workshops and courses in Movement and Improvisation for children, adults and disabled people in Italy and abroad. Co-founder of Spazio Seme, he works like actor and dancer in Spazio Seme's artistic productions. Leo is co-organizer of the ItalyContactFest, italian festival of Contact Improvisation.
MARIO GHEZZI
Mario Ghezzi is a performer and yoga teacher. His personal research in movement and improvisation is influenced by experiential anatomy, energy pathways, basket and tai chi movement. As dance/movement teacher he's interested in discover our personal ways of dancing and performing.
He regularly teaches contact improvisation and yoga, takes part in site specific performances with dancers, actors, musicians and works with dance company.
Mario is co-organizer of the ItalyContactFest, italian festival of Contact Improvisation.
Spazio Seme – arti in movimento is an international cultural and artistic center in Arezzo (Tuscany).
Spazio Seme organizes several activities: courses and workshops for children and adults, shows, concerts and exhibitions.
Spazio Seme is managed by Seme s.n.c., the society that works in the world of culture, art and entertainment. Seme creates and promotes opportunities for research and collaboration between italian and international entities.
Trafo House – Studio
Price: 8000 HUF / workshop – 5000 HUF / one day
Registration by email:
Enikő Szilágyi
sferamove@gmail.com
More informations: +36 30 636 56 21