Gracefull chaos – CONTACT IMPROVISATION
intensive workshop with Yaniv Mintzer (IL)
June 30 – July 1, 2 | Spazio Seme (Arezzo, Italy)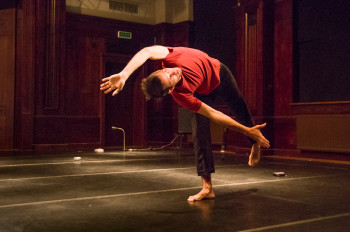 it's been some years now that i am occupied with one main subject in my dancing, through which i view most of the dancing aspects. that subject is- water.
i can't stop wishing to fulfill the liquid potential i know my body was born from, and develped through. the closer i get, it seems more complex and rich.
recently i found a book, called "the secrets of water movement" (my translation), by a german scientist named- Theodor Schwank. his way of exploring and observing water, as well as the language and imagery he uses in the book, connected me to material i have been thinking of and exploring, and gave me an inspiring look into new ways of thinking of water, air and the interconectivity of body and enviornment.
this workshop will be about water. how to explore that?? so easy to fall into concepts and lose connection with real thing. to understand but not feel..
following ideas from shwank's book, as well as my own observations of moving water, my main goal is to gather more sensations, observations and physical explorations, into an integral experience of what we truely are- made from the various movements of water meeting water.
things i hope to explore we you
– sensing gravity and "center of the earth"
– undoing effort and accumilated tension in the body
– spiraling and continous disorgenisation (refreshing the chaos:)
– traveling with weight instead of lifting or carrying
– floating, flying, falling and suspending (as ways of relating to gravity)
– wave motion and formations
– developing very subtle "ears", relaxing into small sensations with a body ready to fly
Most probably we will use some objects to help us reveal qualities from our inside.
i would like to encourage the gracefull chaos in each one of us, allowing for all ranges of movement, with effeciancy and playfullness. sounds perfect no? worth a try…:)
Yaniv Mintzer
Dancer, teacher, musician and practitioner
have been teaching more than a decade in israel, europe and the east, for non proffesional dancers as well as dance academies and dance companies.
These days teaching for the jerusalem academy of dance and the school for visual theatre, as well as private groups. touring europe regularly.
Working as practitioner of the ilan lev method, which explores the learning systems of the body, to bring healing to functional difficulties and improves motor skills. this work has been a major inspiration in my dance practice and teaching.
(ilanlev.org) as musician i've made music for dance and theatre as well as recording 3 albums of my own music.
SCHEDULE:
Friday – June 30
– 20.00 – 22.00 class and after Jam
Saturday – July 1
– from 10.00am to 1.00pm class
– from 14.30pm to 18.30pm class
after dinner – Jam
Sunday – July 2
from 10.00am to 1.00pm class
from 14.30pm to 18.00pm class and Jam
The international workshop  takes place at Spazio Seme ( Via del Pantano, 36) in Arezzo – Tuscany (IT)
You can stay in Spazio Seme even for the night, with the mattress and sleeping bags. If there are some special needs (especially about food), let us know and we'll try to manage at best!
The workshop is 160 € if you subscribe before June 18th (only friday dinner isn't included) – 180 € for subscriptions after.
Special price for people who come from abroad – 120 euro!
Accomodetion, vegetarian food and a lot of dance… included!
for info and subscriptions:
info@spazioseme.com – leonardo.lambruschini@gmail.com – 3383366049 – www.spazioseme.com