Dance and movement with Shai Faran
Intensive workshop
29-30-31 october 2016 – Spazio Seme (Italy – Tuscany)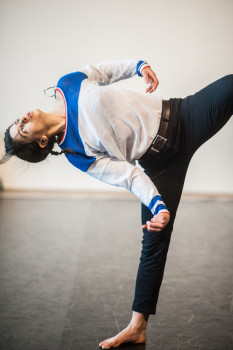 photo buy Bart Grietens
his workshop is an introduction to Shai's approach towards dance and movement.
during the workshop, we will deal with different subjects such as coordination, musicality, movement complexity, choice making, technique and dance and will connect those different subjects in order to find rich and versatile way of using the body.
based on her research and practice, Shai will expose her methodology and give practical tools to develop the physicality and technical skills while keeping the playfulness and expressiveness of the body.
https://www.youtube.com/watch?v=sdCf0g2d_mk
https://www.youtube.com/watch?v=CdDJgxPI-BQ
Shai Faran is an Israeli dancer, teacher and choreographer, based in Europe.
After studying in the dance department at the Misgav High School, she continued her studies at the Haifa workshop for dancers and choreographers.
In Israel, she danced for the Kibbutz Contemporary Dance Company II, the Sigma Ensemble and the Dafi Altabab Dance Group.
After studying and working in Israel, she started to feel the need to be exposed to new information and moved to Europe, where she expended her knowledge and started to develop her research, practice and methods of teaching and creating.
She has worked with different choreographers such as Matej Kejzer, Maya M.Caroll, Zoe Knights, Yuval Pick, Shumpei Nemoto, Maura Morales Alessandro Sciarroni David Hernandez and more, performed around Europe and taught in different frames for professional dancers, high education programs, non-dancers and beginners and in open workshops around the world.
She created several works which won scholarships from the America- Israel Cultural Foundation and the foundation named after Ehud Manor.
In the last few years she has been teaching contemporary dance and improvisation while developing her own work, working as a freelance dancer, teacher and choreographer, and working closely with Martin Kilvady and Ido Portal.
SATURDAY 29 OCTOBER: 
15,00-20,00 class
21,00 dinner
SUNDAY 30 OCTOBER:
8,30-9,30 breakfast
10,00-13,00 class
13,30-14,30 lunch
15,00-19,00 class
20,00 dinner
21,30 free dance space
MONDAY 31 October
10,00-14,00 class
14,30 lunch
The workshop takes place at Spazio Seme ( Via del Pantano, 36) in Arezzo – Tuscany (IT)
You can stay in Spazio Seme even for the night, with the sleeping bags. If there are some special needs (especially about food), let us know and we'll try to manage at best!
Price for participants included food and  the possibility to sleep at Spazio Seme:
190€
Accomodetion, vegetarian food and a lot of dance… included!
50% discount for people who come from abroad!!!
for info and subscriptions:
info@spazioseme.com – leonardo.lambruschini@gmail.com – 3383366049 – www.spazioseme.com