ItalyContactFest 6° edition
2nd June | 9th June 2018 – Amelia (Umbria,IT)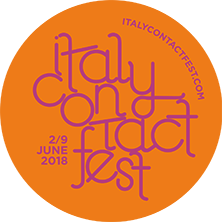 We are very happy to announce The Team of Teachers that will be with us during the ItalyContactFest 2018!
Intensive:
Adrian Russi ( CH)
K.J. Holmes (USA)
Charlie Morrissey (UK)
Classe:
Otto Akkenen (FIN)
Cleo Laigret (FR)
Artem Markov (RU)
Lucía Sànchez (ESP)
Nadja Schwarzenbach (DE)
Caterina Mocciola (ITA)
We will host us an amazing old village in the heart of italy, Amelia , Umbria.
let'start to prepare your travel! A lot of surprises are waiting for all you!!!
Save the date!
Join us!
ICF team
Leilani Weis Leonardo Lambruschini Mario Ghezzi