Global Underscore 2023 and more…
Lab, Jam, classes, performance
23, 24, 25 June 2022 @Spazio Seme
Arezzo – (IT)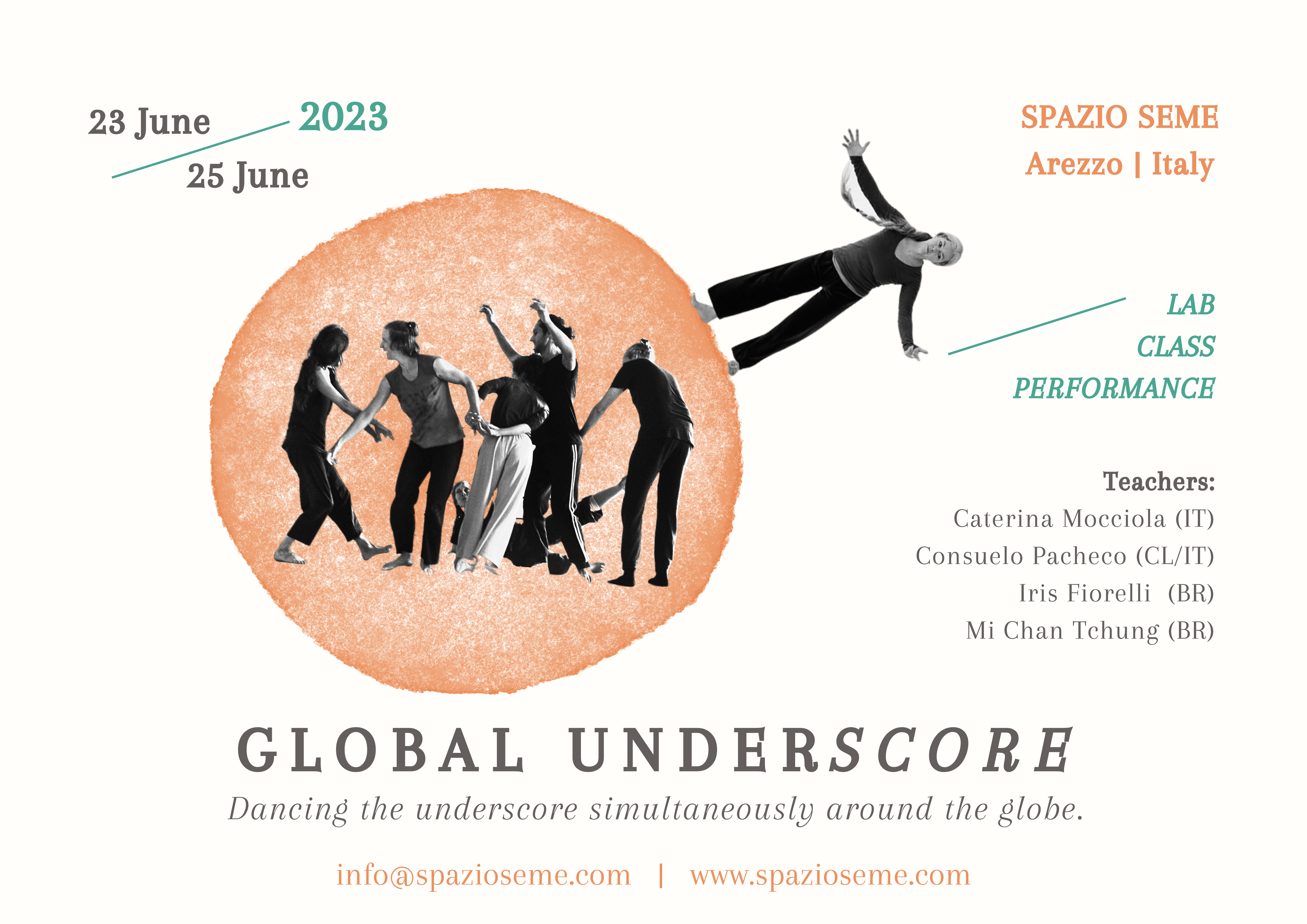 Teachers:
Caterina Mocciola (IT)
Consuelo Pacheco (CL/IT)
Iiris Fiorelli  (BR)
Mi Chan Tchung (BR)
The Unders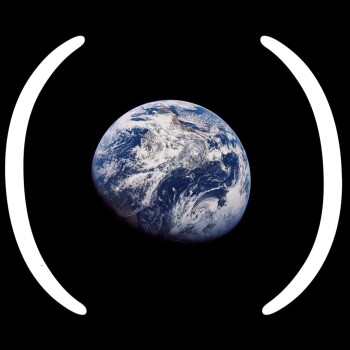 core is a framework for practicing and researching dance improvisation that Nancy Stark Smith has been developing since 1990 based on her work with Contact Improvisation. It is an open score that guides dancers through a series of "changing states", from solo deepening/releasing and sensitizing to gravity and support; through group circulation and interaction, contact improvisation engagements, opening out to full space improvisation with compositional awareness.
The Global Underscore is practiced globally and simultaneously every year for the Summer Solstice. It was proposed, for the first time, by Clair Filmon in 2000, following her desire to connect dancers from all over the world to create and compose all together in the present moment.
Schedule:
Friday 23
arriving from 15.00
17 -19.30 class with Iiris Fiorelli – Mi Chan Tchung
19.30 – 20.30 sharing dinner
21.30 Jam
Saturday 24
9.30 – 12.00 class with Iiris Fiorelli – Mi Chan Tchung
12.30 lunch
14.00 – 19.00 Global Underscore – Caterina Mocciola
20.00 dinner
22.00 Jam
Sunday 25
9.30 – 12.30 laboratory with Iiris Fiorelli – Mi Chan Tchung – Consuelo Pacheco
13.00 lunch
14.30 – 17.00 jam
18.30 – Show – Las Titis con  Iris Fiorelli and Mi Chan Tchung
…time for improvisation….
(..If you need you can stay on night more at spazio seme).
Las Titis
We are Iris Fiorelli and Mi Chan Tchung, body artists with more than 20 years of experience. In 2020 we created the company Las Titis. Our language is based on Contact Improvisation dance, clowning, therapeutic somatic arts and travel, practices that reflect our way of relating to the world. We develop scenic and pedagogical creations for children, youth, adults and seniors, always investigating the intersections between art, health, love and humor.
Iris Fiorelli (Brazil)
Graduated in Hatha Yoga and Inclusive Dance for Children, she has been dedicated since 1997 to clowning and dance, especially to Contact Improvisation.
Since 2005, I have been focused on the practice, dissemination and creation of works that unite these languages, in search of a comic dancing body. I like to see life through the clown optics: open gaze, curiosity, innocence, ridiculous, mistake, self-exposition, availability to the game. I'm interested in demystifying taboos, talking with delicacy and humor about feelings, sex and death. I look for the lightness and the fluidity in the movements, in how to move and make movements in nature, being earth and water.
I live in nature, invest in somatic practices and water dance. Since 2009 I have co-organized the seaside CI festival "Transformando pela Prática", in the south of Brazil (www.transformandopelapratica.wordpress.com). Since 2014 I'm based in Ilhabela, a paradise island in Southeast Brazil. I have two solo shows as Carmela the Clown: "Magavilha" and "Retalhos Populares".
Mi Chan Tchung (Brazil)
Having earned a Bachelor's Degree in Communication of the Body Arts as well as a Pedagogy Degree, Mi is now pursuing a Postgraduate Degree in Play Therapy and Training in Art Therapy. As a solo performer, I created the street acts 'Menu' and 'Mrs. Cloud'. Practitioner and promoter of Contact Improvisation dance since 2005, I was especially influenced by the CI community from Argentina, where I have spent the majority of the last 12 years. Being a traveler, I hold contact and improvisation as a life style. Working as an artistic producer, I apply many tools from CI to my creative processes. link I've studied with many South American and international teachers, and I find in the dance with beginners a big source of my development within the CI form. I am currently researching and developing a philosophy/method called "Dance Ludens", catalyzed by the process of teaching and learning through the play movement.
Caterina Mocciola (Brazil)
Dancer, performer, teacher, and linguist, she meets Contact Improvisation in Australia where she starts studying and practicing this dance form that – as for many others – has changed her life. The continuous research and wish to delve deeper into it, in 2009 led her to undertake a sabbatical dedicated to the study of CI. Earthdance was naturally chosen as the starting point where she took part in Nancy Stark Smith's three weeks intensives. Since then, the meetings with the so-called "CI God-Mother" happened on different occasions: in the summer of 2009 at the pre-festival workshop in Budapest where she was the interpreter for the Italian group; in 2011 she was invited by Nancy for a research period of two weeks on her lifework at the Roehampton University in London for the Extend Underscore Research
Group; in 2016 she met Nancy again in Berlin for the last Global Underscore facilitated by Nancy in Europe, where she documented the introduction of the last glyph introduced to the Underscore; in 2017 she was invited to participate as Project Manager for the Global Calendar. Since 2009 she has been facilitating the Underscore and the Global Underscore both in Italy and internationally.
Meeting Nancy has been crucial, of great inspiration, in unexpected and profound ways. Among these, definitely the initial spark for this collective to come together as a group that now is invested in this research.
Consuelo Pacheco –  Italia/ Chile
Educator, Dancer and Somatic Researcher.
Since I was a child, Dance has accompanied my actions as a human being. I studied professionally to become a germinator of free movement spaces. 12 years ago I met the C.I, and during this "practice time" my curiosity for the awareness of the movement emerges more pleasant and moving in the dance. In recent years I have ventured into the universe of contemplative arts and somatic practices, studying the Alexander Technique in more depth.
Since 2012 I have taught dance and improvisation classes to children, young people and adults, dancers and amateurs in Latin America and Europe. Currently, I live in Italy and collaborate in the Dance area of ​​Spazio Seme – International Cultural Arts Center in Arezzo.
In my daily life, I spend a large part of my time lovingly and respectfully raising my daughter Amanda, researching the Montessori and Pikler methods to delve into psychomotor evolutionary development in early childhood. Currently, I am studying the Ecology of Childhood Training at the European Institute of Perinatal Mental Health.
Where:
The event takes place at Spazio Seme (Via del Pantano, 36) in Arezzo – Tuscany (IT).
studio (with your sleeping bag) or camper/van.
Cost: 140 euro –  including food and sleep!
For more info and registration:
leonardo.lambruschini@gmail.com
Join us!