Workshop con
GABRIELLA MAIORINO
21-22 ottobre 2017 @ Spazio Seme (Arezzo)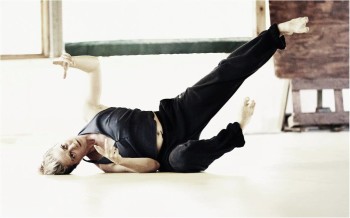 Il workshop ad Arezzo continua una serie di incontri in Italia con la coreografa Gabriella Maiorino ed è un'occasione per conoscere ed approfondire il suo lavoro di floor work, improvvisazione ed elementi coreografici sviluppati dal 2002 in Olanda ed in tutta Europa.
Il lavoro proposto da Gabriella va da un riscaldamento fisico molto dinamico e musicale, allo sviluppo di diverse qualità di movimento e di stato percettivo.
L'approccio nella danza è viscerale, immaginativo, ma anche atletico, animale e giocoso.
Bio
Coreografa Italiana residente in Olanda, Gabriella si e' diplomata alla School for New Dance Development di Amsterdam nel 2002, e da allora tutte le sue creazioni sono state prodotte e finanziate da istituzioni Olandesi e comprodotte da diversi enti Europei. Ha presentato le sue creazioni ed insegnato in Olanda, Italia, Germania, Portogallo, Spagna, Norvegia, Belgio, Inghilterra, Francia, Polonia, Romania, Brasile ed altre nazioni Europee.
Come insegnante, viene invitata a proporre il suo lavoro originale, mix di floor work, improvvisazione, elementi visionari e lavoro sulla creazione di un linguaggio fisico individuale, in accademie di danza (Artez Arnhem, SNDO Amsterdam, CODARTS ROTTERDAM, HJS Amsterdam, IALS ROMA, MODEM Catania, Fontys Tilburg, ZONA D, Bucharest), festival o luoghi di improvvisazione e ricerca (ZIP Orvieto, Dansateliers Rotterdam, Casina Settarte, Stalker teatro, Gdansk, Spazio Seme, Alps Move, Opificio dell'arte Biella, Circle Rotterdam, UMBRIA GIOVANI, CID Rovereto etc.).
Il lavoro di Gabriella e' riconosciuto come intenso, molto fisico ed insieme visionario, anti-formale, innovativo e carnale.
INFO:
Il workshop si svolgerà a Spazio seme (via del pantano,36 Arezzo- Toscana) www.spazioseme.com
Possibilità di dormire a spazio seme con proprio sacco a pelo e materassino.
Orari:
Sabato 14.00-19.00
Domenica 10.30-13.00 pausa pranzo 14.30-17.00
Prezzo:
110 € per iscritti entro il 5 ottobre
130 € per gli iscritti dopo il 5 ottobre
(Cena di sabato più colazione e pranzo di domenica compresi)
Per info e iscrizioni:
Matilde Bignamini
matildebignamini@gmail.com
00393335717329
—————————————————————————————————————————————————-
Workshop with
GABRIELLA MAIORINO
21-22 October 2017
The workshop in Arezzo continues a series of appointments in Italy with choreographer Gabriella Maiorino and is an opportunity to learn and deepen his work on floor work, improvisation and choreographic elements developed since 2002 in the Netherlands and across Europe.
The work proposed by Gabriella start from a physical, very dynamic and musical warming to the development of different qualities of movement and perceptual status.
The dance approach is visceral, imaginative, but also athletic, animal and playful.
Gabriella Maiorino
Italian choreographer and performer living in the Netherlands, Gabriella graduated from the School for New Dance Development in Amsterdam in 2002 after studying philosophy, dance and music in Italy. All her creations have been produced and financed by Dutch institutions and co-produced by different European institutions. She presented her creations, and taught in Holland, Italy, Germany, Portugal, Spain, Norway, Belgium, England, France, Poland, Romania, Brazil and other European nations.
As a teacher, she was invited to propose her original research, a mix of floor work, improvisation, visionary elements and tools to create an individual physical language, in many venues: dance academies (Artez Arnhem, SNDO Amsterdam, Codarts ROTTERDAM, HJS Amsterdam, IALS ROME , MODEM Catania, Fontys Tilburg, ZONE, Bucharest), festivals and locations for improvisation and research (ZIP Orvieto, Dansateliers Rotterdam, Casina Settarte, Stalker theater, Gdansk, Spazio Seme, Alps Move, Opificio dell'Arte Biella, Circle Rotterdam, Umbria Giovani, CID Rovereto etc.).
The work of Gabriella is recognized as intense, very physical and with visionary, anti-formal, innovative and carnal.
Info:
The workshop takes place at Spazio Seme ( Via del Pantano, 36) in Arezzo – Tuscany (IT) www.spazioseme.com You can stay in Spazio Seme even for the night, with the mattress and sleeping bags.
Timetables:
Saturday 2PM-7PM
Sunday 10.30AM-1.00PM lunch break 2.30PM-5.00PM
Price:
The workshop is 110 € if you subscribe before October 5th (only Saturday lunch isn't included) – 130 € for subscriptions after.
Accomodetion, food and a lot of dance… included!
For info and subscriptions:
Matilde Bignamini
matildebignamini@gmail.com
00393335717329