International Brazilian Dance Meeting
15 – 21 July 2019   > SPAZIO SEME | AREZZO, TUSCANY / ITALY.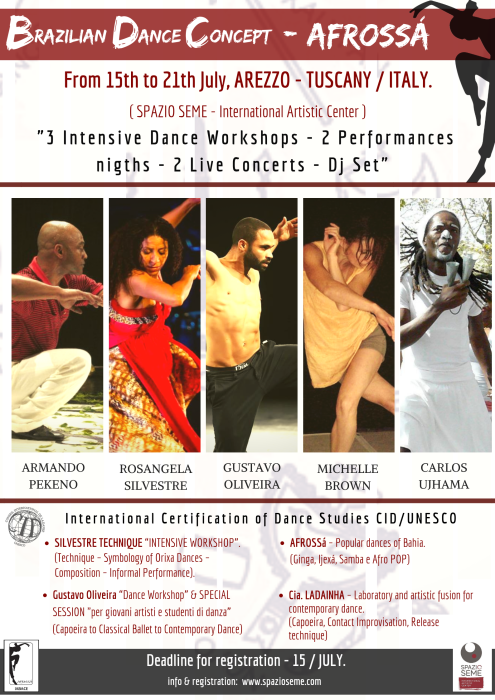 IABACE – Instituto Afro Brasileiro de Artes Cultura e Educação (BR) in collaboration with SPAZIO SEME – Centro Artistico Internazionale (IT), present: AFROSSÁ BDC – SUMMER PROGRAM EUROPE.
An international dance program, which works to promote knowledge about artistic / cultural production, based on Afro-Brazilian expressions and manifestations in the elaboration, development and diffusion of a universal language for the arts world!
There will be 06 days of intensive workshops, with 5 professional dance grades, with works recognized all over the world:
Teachers Bio:
.
IN THE PROGRAMMING: 
"Thematic 1, Dance and Spirituality"
 Rosangela Silvestre – Silvestre Technique  "INTENSIVE WORKSHOP".
(Technique – Symbology of Orixa Dances – Composition – Informal Performance)
Armando Pekeno  – Afro Brazilian & Afro Contemporary Dance
( Laboratory and artistic fusion for contemporary dance )
Alysson Bruno e Renato Pereira – Percussion, musicality and singing.
(The development of the musicality of Candomblé, in different aspects)
"Thematic 2, Brazilian Expressions for Contemporary Dance"
Gustavo Oliveira 

"Dance workshop"


(Capoeira to Classical Ballet to Contemporary Dance)
Michelle Brown "Dance workshop"                                                                                    (Contact improvisation, Release technique and Capoeira)
*International Certification of Dance Studies CID / UNESCO.
"The universal passport of dance studies, valid around the world. Recognized by schools, companies, groups, associations and cultural centers in more than 170 countries. "
– – –
ABOUT AFROSSÁ BDC
AFROSSÁ BDC is a unique development and training program for new multipliers of this discipline, capable of offering an international certificate, recognized worldwide, through the International Dance Council CID/UNESCO.
The aim is to strengthen the institution's ties with all its artistic community, at national and international level, in the valuation of cultural diversity, taking into account what a community is able to express symbolically, translated in respect to its history, its values and their ways of acting in coexistence with nature and with others.
The program is aimed at students of dance, actors, performers and all those who have a strong relationship with the learning of art in movement in a cultural environment and expressive syncretism.
– – –
DEADLINE FOR REGISTRATION: 15th / JULY.
LIMITED PLACES!
---
INVESTMENT and HOW TO APPLY:
AFROSSÁ BDC – SUMMER PROGRAM | EUROPE /

€ 390 EURO

(required –

Deadline: 15th JULY

)
AFROSSÁ BDC –

3 DAYS

/

€ 230 EURO

(required ;

deadline 15th JULY

)
Day pass:

€ 80 euro

 (Registration fee is not required)
Individual class:

€ 50 euro

(Registration fee is not required)
International Certification of Dance Studies CID|UNESCO / € 30 EURO (

Application closed!

)
        – – –
% CID Members.
% Dance teachers.
% Students in formation.
% Groups of at least 3 people.
*Check Availabilit
– – –
IMPORTANT:
1- Confirmation of registration will be send after receipt of payment of the "pre-registration fee".
2- Refund Policy: In case of withdrawal from the registration, the participant can not request a refund.
– – –
THE PLACE:  SPAZIO SEME | International Art Center, Arezzo – TUSCANY.
Spazio Seme is an international cultural and arts center in Arezzo (Tuscany) that organizes and hosts several activities: classes and workshops (for children and adults), shows, concerts and exhibitions. It is a place where different artistic expressions can meet and intertwine, beyond language barriers and differences.
Spazio Seme is managed by Seme s.n.c., a company that works in the field of culture, art and entertainment. Seme creates and promotes opportunities for research and collaboration among several Italian and International agencies and artists.
HOW TO GET:
PROGRAM | ART OF MOVEMENT – Spazio Seme – Arezzo (Tuscany, IT)
—
Tips for international participants:
If you are coming from Rome (Fiumicino or Ciampino airport):
– Airport of arrival x connection central train station Roma Termini x Arezzo.
If you come to Florence (airport):
– Connection Santa Maria Novela train station x Arezzo.
If you come by Pisa:
– Connection Santa Maria Novela train station x Arezzo.